Everything you always wanted to know about the Man but were afraid to ask...
... well, quite a lot, anyway.

Site was last updated on 30 Nov 2013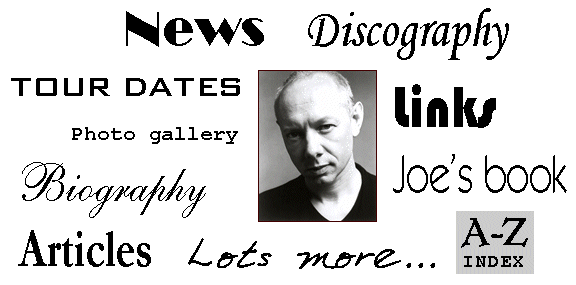 News | Discography | Tour dates | Photo gallery | Biography | Articles | Links | Joe's book | Lots more | A-Z index

Welcome to The Joe Jackson Archive!
This Archive was created in order to gather all information regarding the British composer and recording artist Joe Jackson and to make this information available to everyone interested in his music around the world.
Of course, this Archive is still incomplete in parts (e.g. the list of tour dates), so please don't hesitate to tell me about anything missing or incorrect. Every contribution is most welcome. (A big thank you to all the people, too numerous to mention individually, who have contributed in the past!) You will find the e-mail address on the Contact page. I hope you'll understand that I cannot reply to every mail I receive.
Thank you.
Andreas Wostrack
Access statistics
last month
(Oct 2013)
total
(since Jan 1995)
Visitors
10,181
2,142,413
HTML pages accessed
26,740
6,459,591
---
Copyright © 1995-2013 Andreas Wostrack. All rights reserved.